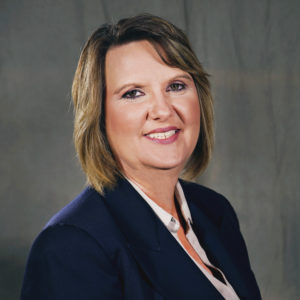 My name is Kim Weir, and I started working for Bios Corporation on December 4, 1992. I was 20 years old with a brand new family. I applied at Bios as a "step up" job from my veterinary technician position that I was working part-time in Tulsa out of necessity, not that I was looking for a career. I was hired to be a Job Coach in the Employment Department without really even knowing what a Job Coach position even looked like. I was given instructions to report to the Hissom Memorial Center to begin my training. 
At 20, I was certainly not prepared for what this place was, what it represented or the impact it would have on me. The training consisted of providing people with the history of services and the how we got here as well as the goal of deinstitutionalizing this facility.For what seemed like weeks, I walked the halls and the grounds of Hissom seeing people with disabilities for the first time as segregated citizens on a campus that in its prime was meant to provide state of the art therapy and services for desperate families but in its current state was delivering mediocrity at best. 
After the training we began assisting in transitioning people to community living, at that point our mission started becoming clear. We were going to get as many people out of the institution and begin the journey of living in the community with them as soon as we possibly could. Through the first years many lessons were learned and over the first few years many lives began to change. With the growth of Bios, new opportunities arose and at that point I was completely bought in to the mission. I took a position as Assistant Vocational Manager and we took up the challenge of getting people with disabilities working in their community. There was an explosion of people who wanted to earn their own way and again more opportunity came through growth. I became the Vocational Director and built an astonishing team who had the heart and soul for getting people employed in the community. This was certainly some incredibly fun times with many successes. 
To continue my growth, I next took a position as the Residential Director where I could put my many years of experience to work in order to continue the Bios Mission on a larger scale. I deepened my knowledge of creating opportunities for the people we serve in the community through the residential services that we offered and built many relationships over the years. I have watched people grow, be successful in their community and live happy lives over the years. I then helped start A Better Life Homecare where we provided Advantage and Private Pay care for customers with various needs, primarily with the goal of allowing people who are elderly to have access to services that keep them out of nursing homes. I am humbled to have been a part of what is now Bios Care for the last 8 years and am proud to say we now have a start up for a Home Health agency.
All of this to tell you that Bios started as a job for me, but it has become so much more. It is my life philosophy and we are certainly a big family who greatly depend on each other. I was a kid who knew nothing and Bios took a chance, then they allowed me the time and opportunity to grow through so much. I can never express how truly remarkable the years have been and can never really put into words what I have witnessed in the lives of people who otherwise would have been in institutions. If you are a person reading this who has no idea what you want to do in life I would encourage you to visit with us at Bios. There is no place that I can think of where you can learn so much!!