May 24, 2019. The events of this day forever changed the lives of so many in Sand Springs, Oklahoma, including my own family.  For the second time in their lives, my in-laws were devastated by flood waters from the Arkansas River. Their first experience occurred in 1986, which, at the time, seemed like a once-in-a-lifetime tragedy.  Unfortunately, the flood of 2019 was just as bad, if not worse.  The four feet of water inside their home and the six feet of water in the garage rendered their home uninhabitable.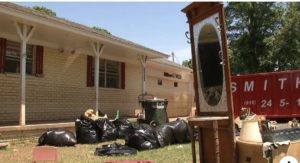 The day prior to the flood, my family began the process of removing the contents and precious memories from their home.  Fortunately, my oldest son, Beau, is an insurance agent and assisted tremendously during these critical hours.
Without hesitation, my husband, Mark, my son, Hunter and I opened our home to them.  When we respond immediately to others' suffering, we usually do so without thinking about the logistical impact of our decision.  This was no different.  In our case, we've learned that with the blending of two families in one home, adjustments are required on everyone's part: we're managing more people in less space; we're combining different routines and rituals; we're accommodating different schedules; we're planning for different tastes and preferences.  In spite of the need for adjustment, we are experiencing first-hand, that in the spirit of giving to one another, much can be accomplished.  For instance, my daughter-in-law, Abbie, has prepared meals and desserts to help alleviate the pressure of cooking for a larger family.
As the process of rebuilding Sand Springs has begun, we are seeing that we are not alone in our desire to help. So many people are volunteering their time and resources to help others in their time of need.  Personally, I wish that everyone would continue this kindness every day. Why are disasters required to bring out the best in us?  On an extremely hot day, even my grandson, Tucker, has delivered popsicles to the workers that are helping to restore his great grandparents' home.
How appropriate that Bios is promoting for the month of June:   Do One Thing – it just takes one thing, one act of kindness to brighten someone's day.  Only you know what you are able and capable of doing.  The point is that you make it a priority to really see others and meet needs.
Today, my family has the privilege of celebrating my mother-in-law's 82nd birthday in our home.  Each of my family members has chosen to Do One Thing to make sure her day is as special as she is.  Hunter has ordered her favorite dessert; my husband has purchased a card and I get to make her favorite Mexican meal.   What a precious memory this will make not only for her, but my household as well.
How can you make kindness a choice? Can you Do One Thing? Try it. You will not regret it
"Each of you should give what you have decided in your heart to give, not reluctantly or under compulsion, for God loves a cheerful giver."  2 Corinthians 9:7