My sister, Michelle, and I are 5 years apart and yes, I am the older one. This past year, we traveled together to attend a funeral. This is the first time as adults that Michelle and I left our hubbies behind to travel with our parents.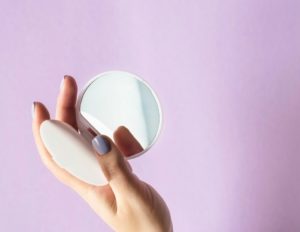 Sharing a room was a fun throwback to our childhood.   We found ourselves once again observing the intimacy of "girl grooming" routines.   Getting ready for the day, I was sitting on the bed applying my makeup with a small hand-held mirror and watching the morning news.  When she saw this she looked at me and said, "Is that what you are using to put on your makeup?  How can you see?"
Michelle is so thoughtful and personal in her gift giving.  Guess what?  For Christmas she gave me a lighted mirror that has a normal view on one side and the other side magnifies everything 10 times! When I looked at the magnified side of the mirror, every flaw and imperfection could be seen.  However, when I flipped it over to the more "realistic" side of the mirror, I immediately felt relief.
In life, it is good when imperfections are brought to the surface, for that is a time to grow. Use this awareness as an opportunity to further perfect the unique and wonderfully made person you are.  Everyone has something to work on!  Do not magnify your faults and start thinking negative.    Never give up, continue to move forward so that you can use your talents to serve others.  There is only one you and you only have one life.  Make it count!
"I praise you because I am fearfully and wonderfully made; your works are wonderful,
I know that full well." Psalm 139:14 New International Version (NIV)