Bios has a long history of public leadership and political advocacy for the people we support and the caregivers who provide the support.
Each year, Oklahoma People First organizes a Developmental Disability Awareness Day at the capitol. As a part of our advocacy Bios always participates and this year was no different. On March 13th, people from all over Oklahoma converged on the state capitol to advocate for people with disabilities.
This day of advocacy always begins on the steps of the capitol with presentations from different leaders in the disability community. This year, Samantha Galloway of Oklahoma Community-Based Providers, emphasized the importance of adequately funding services so direct support professionals move toward making a living wage. Sam Jenkins, the president of Oklahoma People First, got everyone pumped up to go tell their stories to their elected officials.
Kyle Hilbert, State Representative for District 29 and Mark Lawson, State Representative for District 30 spent a significant amount of time with their constituents, Shannon Holcomb, Melanie Cassady, Casen Rogers and Mary Holcomb, as the Creek County residents shared the importance of specifically funding rates for DDS (Developmental Disability Services).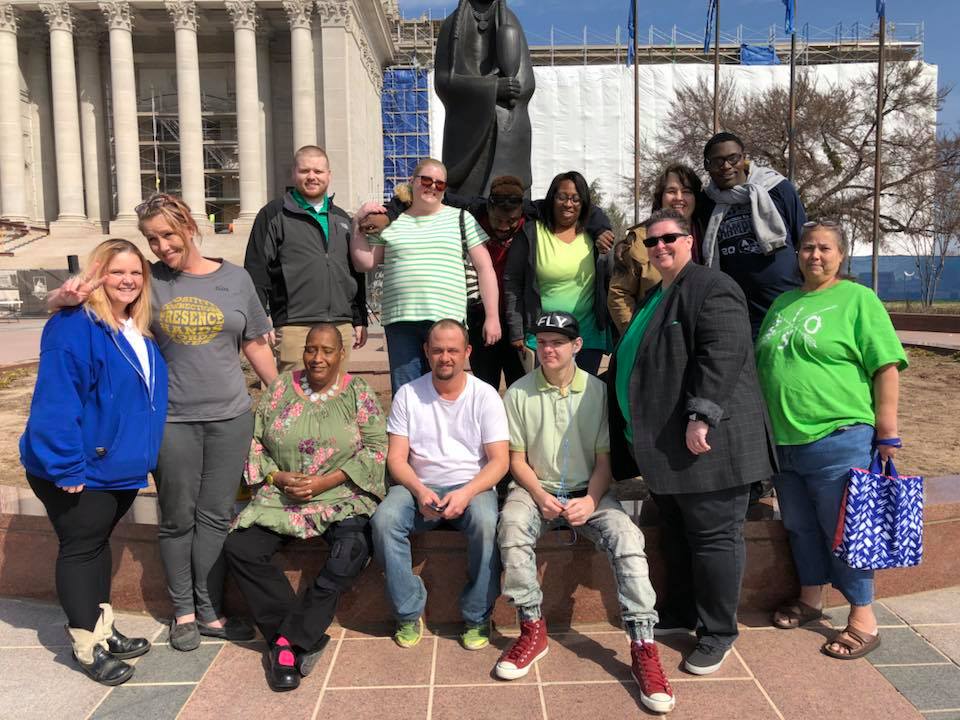 Jennifer Kelly, Program Manager, organized a meaningful and fun day for Mary Holcomb, several other people who receive support, and their employees. They carpooled from Sapulpa to Oklahoma City, participated in the rally, visited with their elected officials and had a great time in the city.
As a result of this and other advocacy, the Oklahoma legislature voted to restore the reimbursement rates that were cut three years ago. Although this is not nearly enough to properly fund living wages for direct support professionals, it is certainly a move in the right direction.
In addition to Disability Awareness Day, Bios leadership is committed to developing great relationships with our representative lawmakers as well as legislative leadership. We make sure lawmakers stay connected to and informed about issues impacting the people we support and our employees.